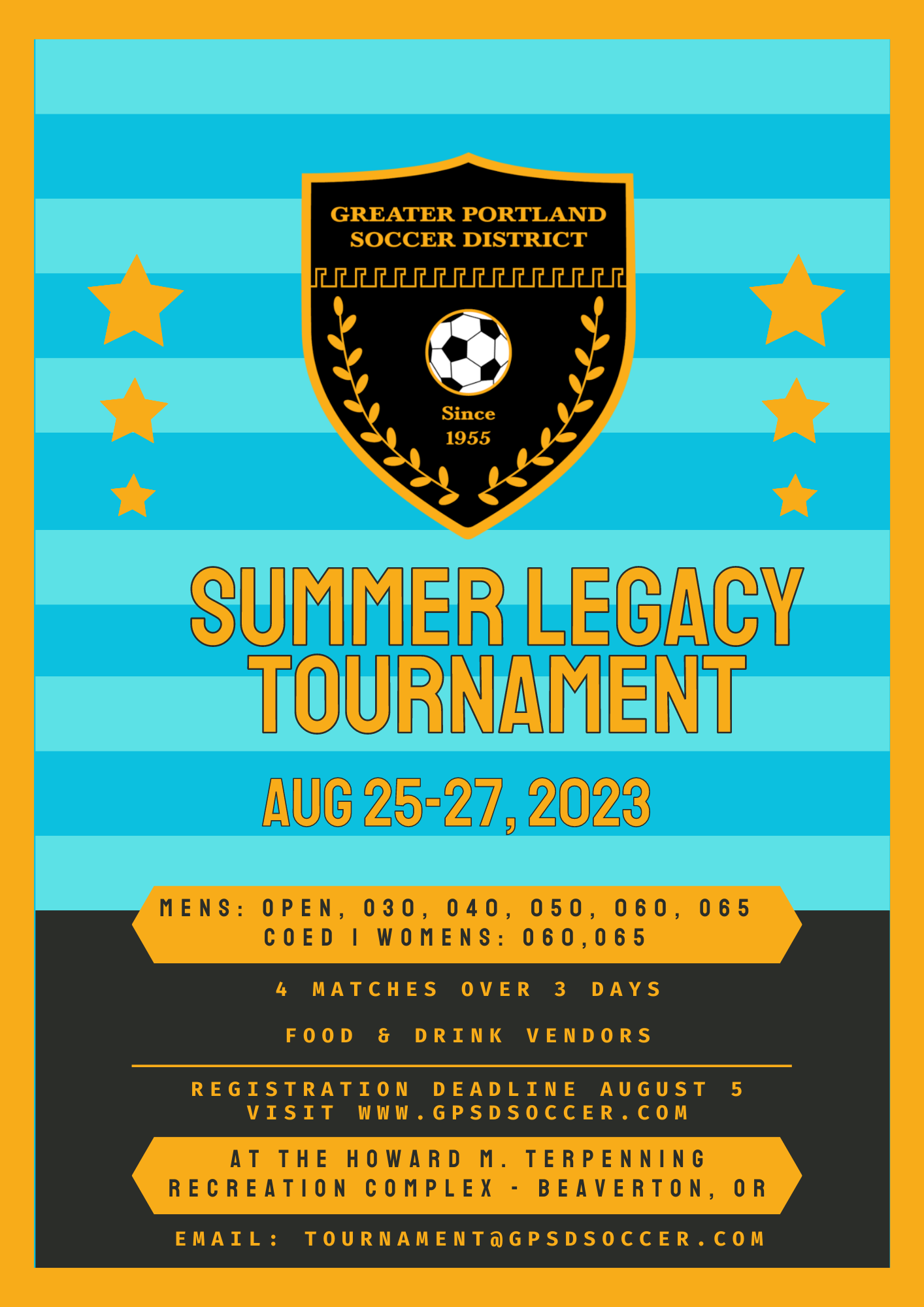 The 2023 Summer Legacy Adult Soccer Tournament will be the 16th Year of the Tournament. It will take place August 25-27, 2023 at the Tualatin Hills Rec Center in Beaverton, OR.
Registration
For team registration is located at the bottom of the page (be sure to review and read the entire page and its rules)
The deadline for registration is August 10, 2023
Team registration is $475 per team before July 25, 2023
Team registration is $575 per team from July 26, 2023 to August 10, 2023
Schedules
Once the August 10, 2023 deadline has occurred we will work on scheduling. When it is complete we will update this page to show where to go to see the schedules.
Divisions
Open (Men's Only)
Over 30 (Men's Only)
Over 40 (Men's & Women's)
Over 50 (Men's & Women's)
Over 60 (Men's & Women's)
Over 65 (Men's & Women's) [up to 4 players are allowed that are 63 years of age - Men's Division Only]
Format
4 matches guaranteed per team (2-25 min halves with a 5-minute halftime, no added time).
All matches outside of the Women's O/65, which will be 8v8 on small goals, will instead be 11v11 on full size field and goals
One match on Friday, Two on Saturday, and One on Sunday.
Friday matches could be anytime between 6:00pm and 10:00pm
Saturday matches could be anytime between 8:00am and 10:00pm
Sunday matches could be anytime between 8:00am and 6:00pm
Divisions will consist of round robin play and then single elimination play
Players
All players need to be registered with OASA and have a current players card (or any of the following)

Washington State Adult Soccer Association (WSASA)
Idaho State Soccer Association (ISSA)
California Soccer Association - North (CSAN)
Another US Youth Soccer affiliated entity
British Columbia Soccer Association (BCSA)
Alberta Soccer Association (ASA)
Another provincial soccer association affiliated with Canadian Soccer Association
US Club Soccer
Any US Soccer Federation affiliated entity

All players need to be the actual age (or older) of the division they want to play in.
Players may play in multiple divisions but NOT on multiple teams within a division.
Rosters
A team roster must be given to the committee before the start of the tournament; written with the players names. Also teams must have SIX ADDITIONAL copies of their roster on hand for the referees
There will be no transfer of players during the tournament; however, if a team drops from the tournament those players can be added to another team
Referees
Referees will be provided by GPSD.
Conduct
All players will abide by the current GPSD Rules of Competition, Bylaws and Constitution (except for any modifications listed below).
Any red card received will result in missing a minimum of the player's next match and a $10 fine.
Any questions please regarding the tournament please send them to Terry Christopher at GPSDCard@aol.com
Any questions regarding the registration process please send them to Justin Phillips at GPSDFields@gmail.com
Hope to see everyone out there!
REGISTRATION LINK: CLICK HERE
Updated 07/01/2023